Game Description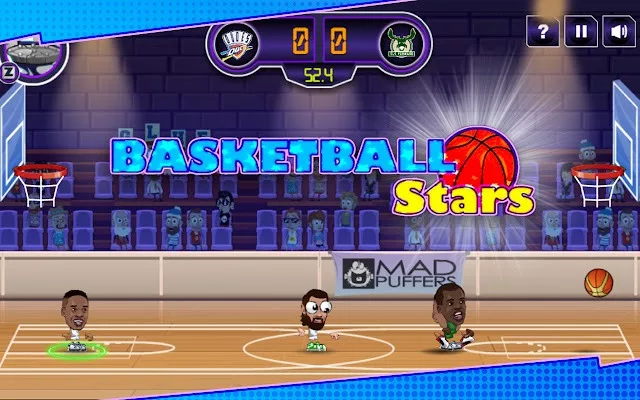 Basketball Stars offers an immersive and competitive basketball experience right at your fingertips. Play one-on-one duels or enter tournaments to prove your skills in intense matchups. The game boasts realistic 3D graphics, a wide range of customization options for your player, and various game modes that keep the action fresh and exciting. Whether you're a casual player or a basketball enthusiast, Basketball Stars offers thrilling gameplay for all.
Game Controls
Mastering the game controls is crucial for success. Here are the basic controls:
Mouse or Touch Controls: Use your mouse or touchscreen to control your player's movements.
Swipe: Swipe on the screen to shoot the ball, block opponents, or steal the ball.
How to Play Basketball Stars
Access the Game: Basketball Stars is available for download on both iOS and Android devices. Visit your device's app store to install the game.
Create Your Player: Start by creating your player's unique appearance. Customize your avatar with various outfits and accessories to make it your own.
Game Modes: Basketball Stars offers multiple game modes, including:

Duel: Engage in one-on-one matches against other players.
Tournament: Compete in tournaments to win prizes and climb the leaderboards.
Practice: Hone your skills and perfect your shots in practice mode.

Gameplay: The objective is to outscore your opponent within a time limit. Dribble, shoot, and defend with skill and strategy to secure victory.
Level Up: As you play, you'll earn XP and in-game currency. Level up your player to unlock new courts, characters, and gear.
Collect Cards: Basketball Stars features a card system that allows you to collect player cards with unique skills and attributes. Use these cards strategically to gain an advantage.
Global Competition: Challenge players from around the world in real-time matches. Show off your skills and climb the global rankings.
Upgrade Your Player: Invest in upgrades for your player's skills to make them more formidable on the court.
Tips and Tricks
To excel in Basketball Stars and become a hoops legend, consider these tips:
Practice your shooting accuracy to score consistently from various positions on the court.
Learn to time your blocks and steals to disrupt your opponent's shots and regain possession of the ball.
Experiment with different player cards to find the best combinations for your playstyle.
Game Developer
Basketball Stars was developed by Miniclip, a game development company known for creating a wide range of popular browser and mobile games.
Game Platforms
Mobile Devices: Download the game on iOS and Android devices to play on the go.
In conclusion, Basketball Stars brings the excitement and competitiveness of basketball to the palm of your hand. Whether you're facing off against players from across the globe or customizing your player to perfection, this game offers endless basketball fun and challenges your skills on the court. So, lace up your virtual sneakers, hit the hardwood, and aim for victory in Basketball Stars!