Game Description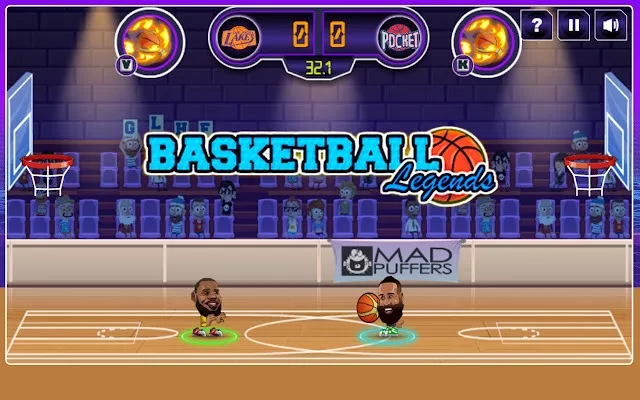 Basketball Legends is a fast-paced and action-packed basketball game that lets you team up with basketball legends like Michael Jordan, Kobe Bryant, and LeBron James. The game offers exciting one-on-one and two-on-two matchups, each with its own unique challenges and strategies. With its easy-to-grasp controls, colorful graphics, and captivating gameplay, Basketball Legends delivers a slam-dunk gaming experience for basketball enthusiasts and casual players alike.
Game Controls
Mastering the game controls is crucial for success. Here are the basic controls:
Player 1:

Arrow Keys: Use the arrow keys to move your player.
Z: Press the "Z" key to pass the ball, steal it from your opponent, or activate your special move.
X: Press the "X" key to shoot the ball or tackle your opponent.

Player 2:

W, A, S, D: Use the W, A, S, and D keys to move your player.
K: Press the "K" key to pass the ball, steal it from your opponent, or activate your special move.
L: Press the "L" key to shoot the ball or tackle your opponent.
How to Play
Access the Game: Basketball Legends is available on various gaming websites that host browser-based games. Search for the game online and choose a reputable source to play.
Select Your Legends: Start by choosing your legendary basketball player. Each player has unique skills and attributes, so pick the one that suits your playing style.
Game Modes: Basketball Legends offers multiple game modes, including:

Tournament: Compete in a tournament against AI or real opponents to become the ultimate basketball legend.
Random Match: Play quick one-on-one matches against random opponents.
Practice: Hone your skills and learn new moves in practice mode.

Basketball Basics: The objective of the game is simple—score more points than your opponent within the time limit. Dribble, shoot, pass, and defend to secure victory.
Special Moves: Each player has a unique special move that can turn the tide of a match. Learn when and how to use these moves for maximum impact.
Collect Trophies: As you win matches and tournaments, you'll earn trophies and unlock new courts and players.
Multiplayer Mayhem: Basketball Legends also features a multiplayer mode that lets you challenge your friends to thrilling basketball showdowns.
Tips and Tricks
Practice your shooting accuracy to make those three-pointers and slam dunks.
Timing is crucial when using special moves. Use them strategically to gain an advantage.
Work on your defense to steal the ball from your opponent and block their shots effectively.
Game Developer
Basketball Legends was developed by MadPuffers, a game development studio known for creating addictive and enjoyable browser-based games.
Game Platforms
Mobile Devices: Download the game on iOS and Android devices to play on the go.
In conclusion, Basketball Legends offers an exhilarating and competitive basketball gaming experience that pays tribute to the sport's greatest legends. Whether you're sinking three-pointers, executing jaw-dropping dunks, or stealing the ball from your opponents, this game provides endless basketball excitement and challenges your skills on the court. So, step onto the hardwood, choose your legend, and aim for victory in Basketball Legends!