Game Description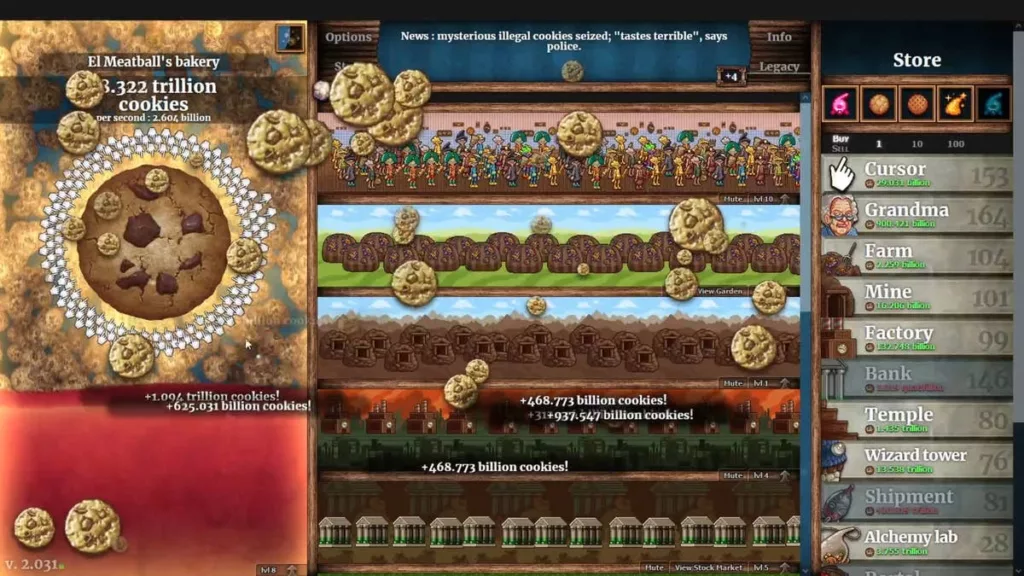 "Cookie Clicker" is an addictive incremental game that challenges players to bake as many cookies as possible. Developed by Orteil and Opti, this game has gained a cult following due to its simple yet compelling gameplay.
Game Controls
Mouse Click: Click on the large cookie to generate cookies.
Upgrades: Purchase various upgrades and buildings using the cookies you've baked.
How to Play Cookie Clicker
Playing "Cookie Clicker" is straightforward. Follow these steps to get started:
Click to Bake: Click on the large cookie icon to bake your first cookie. Each click generates one cookie.
Accumulate Cookies: Keep clicking to accumulate more cookies. As your cookie count increases, you can spend them to purchase upgrades and buildings.
Purchase Upgrades: Spend cookies on upgrades like "Cursor" to automate cookie generation. Upgrades enhance your production rate.
Buy Buildings: Use your cookies to buy buildings like "Grandma," "Factory," and "Mine." These buildings passively generate cookies over time.
Watch the Numbers Grow: As you progress, you'll see your cookie production skyrocket. The goal is to bake as many cookies as possible.
Set Objectives: "Cookie Clicker" features various achievements and milestones. Try to reach them for extra challenges and rewards.
Tips and Tricks
To become a cookie baking maestro, consider these tips:
Automation is Key: Invest in upgrades and buildings that automate cookie production. Cursors, Grandmas, and other structures will do the work for you.
Golden Cookies: Keep an eye out for golden cookies that appear occasionally. Clicking them grants substantial bonuses.
Prestige: After reaching a certain point, you can choose to "prestige," which resets your game but grants heavenly chips. These chips boost your future cookie production.
Active or Idle Play: "Cookie Clicker" caters to both active and idle players. You can leave the game running in the background to accumulate cookies passively.
Game Developer
"Cookie Clicker" was developed by Orteil and Opti, indie game developers known for their creative and addictive incremental games.
Game Platforms
Mobile Devices: Download the game on iOS and Android devices to play on the go.
How to Play Unblocked
To play "Cookie Clicker" unblocked, you can visit the game's official website or other reputable gaming websites that host the game. It's typically available to play without restrictions in most locations. Enjoy baking those cookies!