Game Description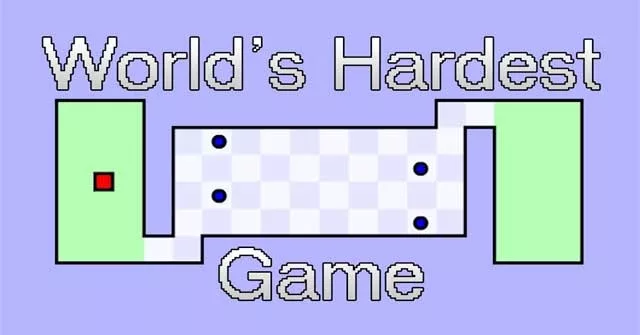 "World's Hardest Game" is a challenging and addictive online game that lives up to its name. Created by Stephen Critchlow, this game requires precision, timing, and strategic thinking as players navigate through a series of increasingly difficult levels.
Game Controls
Arrow Keys: Use the arrow keys on your keyboard to move the red square throughout the game.
How to Play World's Hardest
Playing "World's Hardest Game" can be frustratingly difficult, but the objective is simple:
Navigate the Red Square: Control the red square with your arrow keys. Your goal is to move it to the green area to complete each level.
Avoid Blue Dots: Steer clear of the blue dots or enemies that move around the screen. If you touch one, you'll have to restart the level.
Collect Yellow Coins: Collect all the yellow coins in each level to unlock the green exit area.
Plan Your Moves: Pay attention to enemy patterns and plan your moves carefully. Timing is crucial.
Progress Through Levels: The game consists of multiple levels, each more challenging than the last. Your objective is to complete all of them.
Tips and Tricks
To conquer the "World's Hardest Game," consider these tips:
Practice Patience: Don't rush. Take your time to analyze enemy movements and plan your route.
Learn Enemy Patterns: Understand how each enemy moves. This knowledge will help you anticipate their actions.
Use the Walls: You can often use the walls to your advantage, creating safe zones.
Restart as Needed: Don't be discouraged by frequent restarts. It's all part of the learning process.
Game Developer
"World's Hardest Game" was developed by Stephen Critchlow, an independent game developer known for creating challenging and entertaining browser games.
Game Platforms
Mobile Devices: Download the game on iOS and Android devices to play on the go.
How to Play Unblocked
To play "World's Hardest Game" unblocked, you can visit gaming websites that host the game or find it on popular gaming platforms. It's typically available to play without restrictions in most locations. Prepare for a challenging gaming experience!