Game Description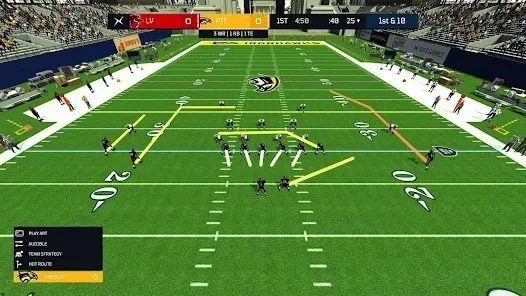 "Axis Football League" is a highly immersive American football simulation game that allows you to step into the shoes of a football team manager and lead your team to victory. Customize your team, strategize your plays, and compete against other teams to become the champion of the league.
Game Controls
"Axis Football League" can be played using a computer keyboard. Below are the standard controls:
Offense Controls:
W, A, S, D: Use these keys to control the movement of your player.
Spacebar: Snap the ball to the quarterback (center).
Mouse: Click on the receiver icons to pass the ball.
Left Mouse Button: Click and drag to control the power and direction of a pass.
Defense Controls:
W, A, S, D: Use these keys to control the movement of your player.
Spacebar: Switch control to the player nearest to the ball.
Mouse: Click on the player you want to control.
How to Play Axis Football League
In "Axis Football League," you have the opportunity to manage every aspect of your football team. Here's how to play:
Team Customization: Start by customizing your team. You can choose the team's name, colors, and logo.
Game Modes: The game offers various modes, including Exhibition, Season, and Playoffs. Choose the mode you want to play.
Offense and Defense: During games, you can control both offense and defense. On offense, you'll need to strategize plays to advance down the field and score touchdowns. On defense, your goal is to stop the opposing team's offense.
Play Calling: On offense, select plays from the playbook. Different plays are suited for different situations, so choose wisely.
Passing and Running: Use your quarterback to pass the ball to receivers, or hand off to running backs to gain yardage. On defense, tackle ball carriers and try to intercept passes.
Managing the Clock: Pay attention to the game clock and game situation. Managing the clock effectively can be crucial in close games.
Season Progression: In Season mode, you'll play a series of games. Try to win as many games as possible to advance to the playoffs and, ultimately, the championship.
Tips and Tricks
To excel in "Axis Football League," consider these tips:
Learn Your Team: Understand the strengths and weaknesses of your team and adapt your strategy accordingly.
Mix Up Plays: Don't be predictable. Use a variety of plays to keep your opponent guessing.
Master the Controls: Practice passing, running, and tackling to improve your skills.
Manage the Clock: In close games, clock management is critical. Use timeouts wisely.
Game Developer
"Axis Football League" was developed by Axis Games.
Game Platforms
Mobile Devices: Download the game on iOS and Android devices to play on the go.
How to Play Unblocked
To play "Axis Football League" unblocked, you can search for it on websites that provide unblocked games. These websites allow you to access and enjoy the game without any restrictions.