Game Description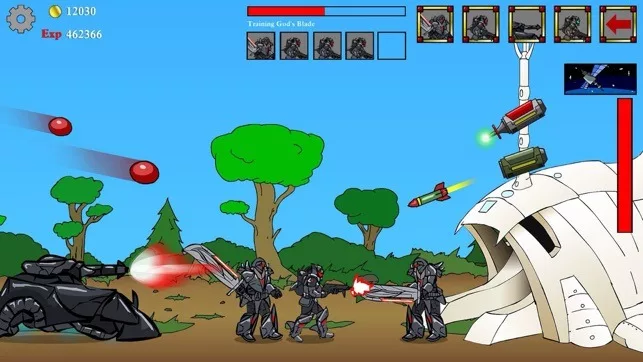 Age of War is a unique blend of strategy and defense, where you guide your civilization through different historical eras, from the Stone Age to the distant future. Your goal is to build a powerful army, defend your base, and launch attacks on your opponents. The game's engaging progression system, diverse units, and strategic depth make it a must-play for fans of both strategy and defense games.
Game Controls
Understanding the game controls is essential for mastering Age of War. Here are the basic controls:
Mouse: Use the mouse to navigate menus, select units, and interact with the game.
How to Play Age of War
Here's how to embark on your journey through the ages in Age of War:
Access the Game: Age of War is available on various gaming websites that host browser-based games. Look for the game online and choose a reliable source to play.
Choose Your Era: Start by selecting the era you want to begin in. You'll start in the Stone Age, and your goal is to advance through the ages.
Base Building: As time progresses, earn resources to build and upgrade your base. Construct turrets and deploy units to defend against enemy attacks.
Unit Deployment: Click on the unit icons at the bottom of the screen to deploy troops. Each era has unique units with different strengths and abilities. Experiment with unit combinations to find the most effective strategy.
Upgrade and Evolve: As you accumulate experience points and resources, use them to upgrade your base, unlock new units, and evolve your civilization to the next era.
Defend Your Base: Keep a watchful eye on enemy attacks. Defend your base at all costs by strategically placing units and upgrading your defenses.
Launch Offensives: When you're ready, build up an army and launch offensives against your opponents. Destroy their bases to claim victory.
Advance Through Eras: Progress through multiple eras, unlocking new units and abilities with each advancement. Each era presents unique challenges and opportunities.
Tips and Tricks
To become a master of strategy and conquer the ages in Age of War, consider these tips:
Balance your resource allocation between base upgrades, unit deployment, and evolving to the next era.
Experiment with different unit combinations to create a well-rounded and effective army.
Pay attention to enemy strategies and adapt your defenses accordingly.
Game Developer
Age of War was developed by Max Games, a game development studio known for creating a variety of popular browser games.
Game Platforms
Mobile Devices: Download the game on iOS and Android devices to play on the go.
In conclusion, Age of War offers a captivating blend of strategy and defense gameplay, challenging you to lead your civilization through the ages while defending against relentless enemies. Whether you're strategizing to repel attacks or launching offensives to conquer your foes, this game provides hours of engaging gameplay and a test of your strategic prowess. So, prepare to evolve, defend, and conquer in Age of War!