Game Description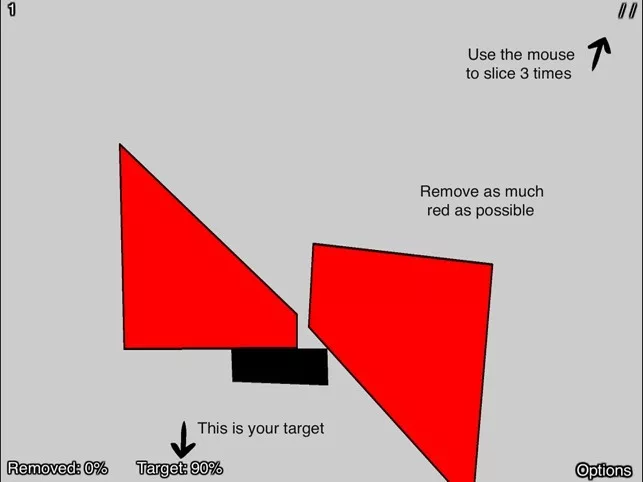 "3 Slices" is a fun and challenging physics-based puzzle game that will test your ability to slice objects strategically. Your objective in each level is to remove as much red as possible while preserving the green shapes.
Game Controls
"3 Slices" is typically played with a computer mouse. Here are the standard controls:
Mouse Controls:
Left Click: Use the left mouse button to make slices in the objects.
How to Play 3 Slices
The gameplay in "3 Slices" is simple to understand but requires precise slicing techniques:
Objective: Your goal is to remove as much of the red shapes as possible from the screen while keeping the green shapes intact.
Slicing: To remove parts of the objects, click and drag the mouse to create a slicing line. When you release the mouse button, the object will be sliced along the line you drew.
Physics: Pay attention to the laws of physics. Objects will react to gravity, and the way you slice them will affect their movement.
Red and Green Shapes: Red shapes need to be completely removed, while green shapes must be kept intact. You'll need to figure out the best way to achieve this using only three slices per level.
Stars: Some levels contain stars. Try to get the stars by slicing objects strategically. Collecting stars adds to your score.
Limited Slices: You only have three slices per level, so plan your cuts carefully.
Tips and Tricks
To succeed in "3 Slices," consider these tips:
Plan Ahead: Before making a slice, think about the consequences it will have on the objects' movement.
Use Gravity: Leverage the effects of gravity to make objects fall or roll in your desired direction.
Restart If Necessary: If you don't achieve the desired outcome with your slices, don't hesitate to restart the level and try a different approach.
Game Developer
"3 Slices" was developed by Gaz Thomas.
Game Platforms
Mobile Devices: Download the game on iOS and Android devices to play on the go.
How to Play Unblocked
To play "3 Slices" unblocked, you can search for it on popular online gaming websites or platforms that offer unblocked versions of the game. These versions allow you to enjoy the game without any restrictions.