Game Description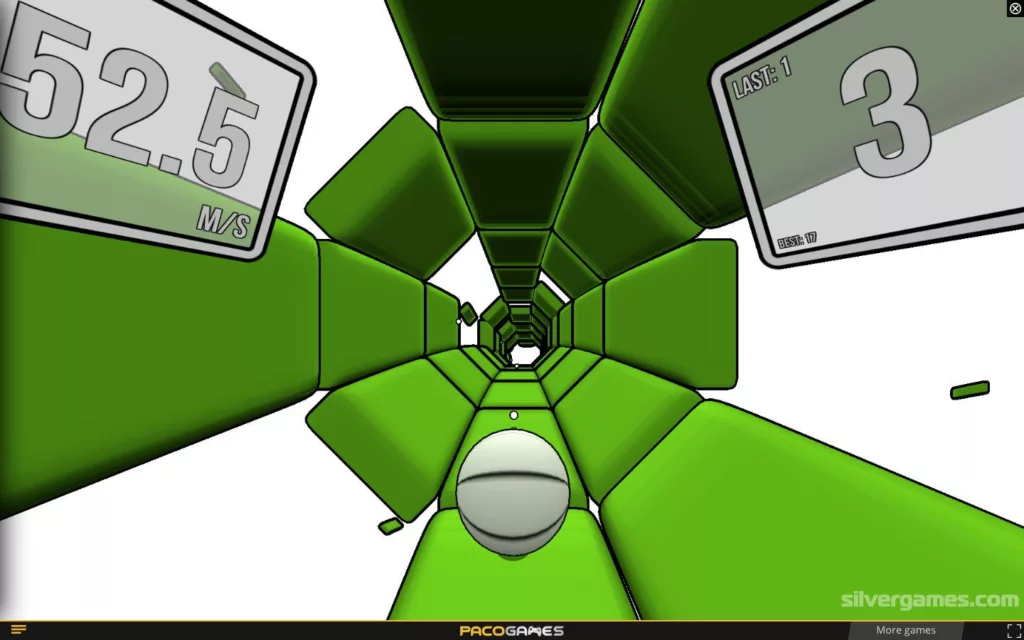 Slope Tunnel is a thrilling and visually stunning endless runner game set in a vibrant, neon tunnel. In this game, your objective is to guide a ball-like character as it speeds down the twisting and turning tunnel, avoiding obstacles, and collecting gems along the way. With its immersive graphics and adrenaline-pumping gameplay, Slope Tunnel offers a heart-racing gaming experience.
Game Controls
Mastering the game controls is essential for conquering the neon-infused tunnel in Slope Tunnel. Here are the basic controls:
Keyboard: Utilize the arrow keys on your keyboard to control the movement of your character. Press the left and right arrow keys to steer and change direction. To pause the game, press the "P" key.
How to Play Slope Tunnel
Here's how to embark on a high-speed journey through the neon tunnel:
Access the Game: Slope Tunnel is available on various gaming websites that host browser-based games. Look for the game online and select a trusted source to play.
Choose Your Difficulty: At the beginning of the game, you have the option to select your preferred difficulty level: Easy, Normal, Hard, or Extreme. Each difficulty level presents unique challenges.
Navigate the Neon Tunnel: Once the game starts, you'll find your character rolling down the neon tunnel. Your goal is to steer your character, avoid obstacles, and survive for as long as possible.
Steer with Precision: Use the arrow keys on your keyboard to control your character's movement. As you speed through the tunnel, you'll encounter a series of obstacles, including red barriers and gaps. Colliding with any obstacle will end the game.
Collect Gems: Throughout the game, you'll come across green gems. Collecting these gems adds to your score. Be prepared for gems to appear in challenging positions that require precise control.
Survival is Key: Your primary objective in Slope Tunnel is to survive. The game doesn't have a defined endpoint; instead, it's all about achieving the highest score and surpassing your previous records.
Challenge Yourself: The fast-paced nature of Slope Tunnel makes it a perfect game to challenge yourself, beat your high scores, and refine your skills.
Tips and Tricks
To excel in Slope Tunnel and conquer the neon-infused tunnel like a pro, consider these tips:
Maintain a steady pace: While it's tempting to rush through the tunnel, maintaining a consistent speed can help you respond better to obstacles.
Prioritize precision: The game's controls require precise movements. Take your time to navigate around obstacles with accuracy.
Don't forget to pause: If you need a moment to strategize or catch your breath, press the "P" key to pause the game.
Game Developer
Slope Tunnel was developed by Rob Kay, an indie game developer known for creating visually captivating and fast-paced 3D running games.
Game Platforms
Mobile Devices: Download the game on iOS and Android devices to play on the go.
In conclusion, Slope Tunnel offers a visually stunning and pulse-pounding gaming experience as you navigate a neon-infused tunnel filled with obstacles and gems. Whether you're striving to surpass your high scores or challenge friends to outdo your achievements, this game provides a thrilling and addictive gaming session. So, prepare for the neon rush and tackle the tunnel in Slope Tunnel!