Game Description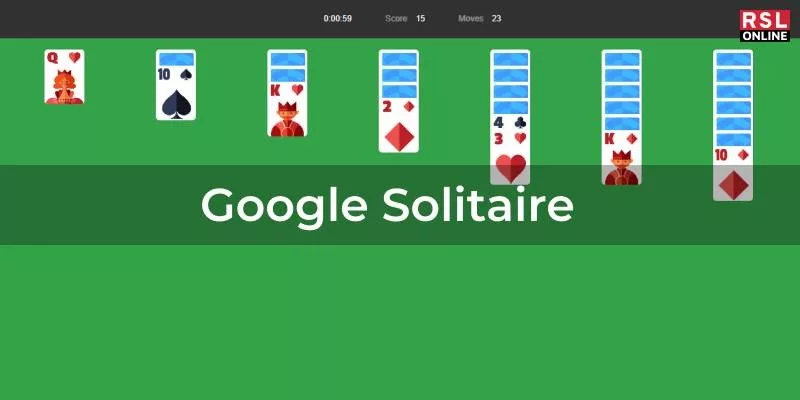 Google Solitaire is a digital adaptation of the classic card game known as Klondike Solitaire. The objective of the game is to arrange all the cards in four foundation piles, sorted by suit and in ascending order from Ace to King. With its straightforward rules and addictive gameplay, Google Solitaire offers hours of entertainment and a chance to test your card-playing skills.
Game Controls
Understanding the game controls is essential for an enjoyable experience with Google Solitaire. Here are the basic controls:
Mouse or Touch Controls: Use your mouse to click and drag cards to move them between piles. If you're playing on a touchscreen device, use your finger to perform the same actions.
How to Play Google Solitaire
Here's how to play Google Solitaire and enjoy a relaxing game of cards:
Access the Game: Google Solitaire is accessible through your web browser. Simply search for "Google Solitaire" in your preferred search engine.
Choose Your Difficulty: You can start a new game by selecting the difficulty level you prefer: Easy, Normal, or Hard. Easy mode provides the most relaxed experience, while Hard mode offers a greater challenge.
Card Layout: The game begins with a shuffled deck of cards dealt into seven piles. The first pile contains one card, the second pile has two cards, and so on. The top card of each pile is face-up.
Foundation Piles: Your goal is to move all the cards to the foundation piles at the top right of the screen. Start with an Ace and build each foundation pile in ascending order by suit (Hearts, Diamonds, Clubs, Spades).
Tableau Piles: In the main area of the screen, you can move cards between tableau piles to create descending sequences and reveal hidden cards. You can move a King onto an empty space to start a new tableau pile.
Draw and Stock Piles: At the top left of the screen, you have the draw pile (where you can draw new cards) and the stock pile (where discarded cards go). Click on the draw pile to draw one card at a time, or click and drag to draw multiple cards.
Card Movement: You can move cards between tableau piles, to foundation piles, or to the discard pile (on the bottom right) by dragging them with your mouse or finger.
Winning: You win the game when all cards are successfully moved to the foundation piles in the correct order. The game will automatically congratulate you and tally your score.
Tips and Tricks
To enhance your Solitaire skills and improve your chances of winning, consider these tips:
Prioritize moving cards from tableau piles to foundation piles whenever possible.
Uncover hidden cards by moving the top cards in tableau piles.
Use empty tableau slots strategically to facilitate card movement.
Don't rush; take your time to plan your moves and consider the consequences.
Game Developer
Google Solitaire is based on the classic Klondike Solitaire game and is not associated with a specific game developer. It's part of Google's suite of casual games and features a simple, user-friendly interface.
Game Platforms
Mobile Devices: Download the game on iOS and Android devices to play on the go.
In conclusion, Google Solitaire offers a timeless card-playing experience that's both relaxing and challenging. Whether you're a seasoned Solitaire player or new to the game, it provides an excellent way to unwind and test your card skills. So, shuffle those cards and enjoy a game of Klondike Solitaire with Google Solitaire!