Game Description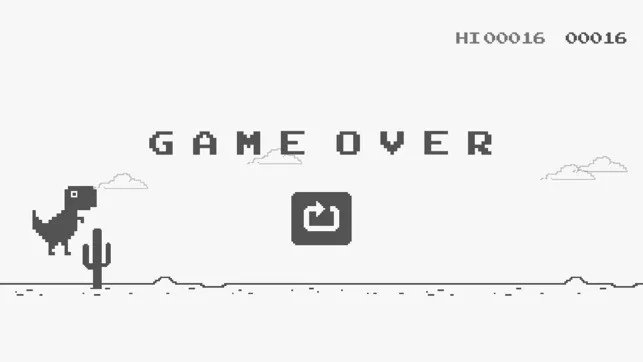 Chrome Dinosaur Game lets you step into the prehistoric world of a cute T-Rex dinosaur. The game takes place in a desert landscape with cacti and flying pterodactyls as obstacles. Your mission is to guide the T-Rex through this desert by making it jump over obstacles and crouch under flying pterodactyls. The longer you survive, the higher your score goes. It's a simple yet entertaining game to play when your internet connection is down or during a quick break.
Game Controls
Mastering the game controls is essential for achieving a high score in the Chrome Dinosaur Game. Here are the basic controls:
Spacebar: Press the spacebar to make the T-Rex jump and avoid obstacles.
Down Arrow Key: Press the down arrow key to make the T-Rex crouch and avoid flying pterodactyls.
How to Play Chrome Dinosaur
Here's how to jump into the prehistoric adventure of the Chrome Dinosaur Game:
Access the Game: Open your Google Chrome browser on a computer. Disconnect from the internet or enable Airplane Mode to activate the game. You'll see a small dinosaur icon on the "No internet" error page.
Start the Game: When you see the "No internet" error page, press the spacebar to begin the game. The T-Rex will start running automatically.
Avoid Obstacles: Obstacles in the game include cacti and flying pterodactyls. Press the spacebar to jump over cacti and the down arrow key to crouch under pterodactyls.
Survive and Score: The game continues until the T-Rex collides with an obstacle. Your score is based on how far you've traveled. Challenge yourself to beat your own high score with each playthrough.
Tips and Tricks
To improve your performance and achieve a higher score in the Chrome Dinosaur Game, consider these tips:
Timing is crucial. Practice your jumps and crouches to avoid obstacles more effectively.
Pay attention to the distance marker on the top right corner of the game screen. Use it to track your progress.
The game's difficulty increases as you progress, so stay focused and alert.
Game Developer
The Chrome Dinosaur Game was developed by Google, the tech giant known for its search engine and a wide range of software and online services.
Game Platforms
Mobile Devices: Download the game on iOS and Android devices to play on the go.
In conclusion, the Chrome Dinosaur Game offers a simple yet enjoyable way to pass the time when you're faced with an internet outage or looking for a quick and entertaining distraction. Challenge your reflexes, beat your high score, and guide the T-Rex through the prehistoric desert in this charming offline game. So, the next time you see the "No internet" error page in Chrome, don't fret—embark on a prehistoric adventure instead!